recent and selected essays             editorial         critical writing
Olsen, R. 2021. Moonflower, 2021 or, 'a scarlet transfer' : For Margaret Mee (1909 – 1988). TEA: The Ethnobotanical Assembly, 8 [online] Available at <https://www.tea-assembly.com/issues/8/moonflower-2021-or-a-scarlet-transfer>.
Start Place in Flux. / Olsen, Redell. The Allen Fisher Companion. ed. / Robert Hampson. Bristol : Shearsman, 2020. p. 53 – 64.
'Of Scents and Sets' : On Anya Lewin's 'More than Stories: A Film Trilogy'. / Olsen, Redell. Southampton : John Hansard Gallery. 2019, "Of Scents and Sets" Catalogue essay for the John Hansard Gallery, Southampton for the exhibition: Anya Lewin – More than Stories: A Film Trilogy, 16 Feb 2019 – 4 May 2019.Olsen Redell Essay on Anya Lewin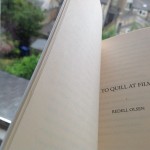 'To Quill at Film' by Redell Olsen
TrenchArt: Logistics (Los Angeles: Les Figues, 2013)
Aesthetics, edited by Teresa Carmody and Vanessa Place
ISBN: 978-1-934254-48-6
Hand-bound in an edition of 250, TrenchArt: Logistics introduces the eighth annual TrenchArt series, with aesthetics written by participating series writers and the series visual artist, Alice Könitz. Of the aesthetic essays, Vanessa Place notes in her introduction that "partial objects are proudly on parade: mouths, cunts, cuts of tongue, and the skin-surface of films/film-surface of skins." Each of the books in the Logistics series uses the cut, and cutting, as an organizing principal. Additional series titles include: Our Lady of the Flowers, Echoic by Chris Tysh; Film Poems by Redell Olsen; Cunt Norton by Dodie Bellamy; and Things To Do With Your Mouth by Divya Victor.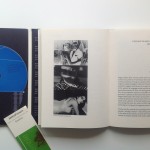 Redell Olsen, "Abigail Child and the poetics of the swoon" / Abigail Child et une poétique de la pâmoison", Is This What You Were Born For?: Strategies d'appropropriation et collage audio-visuel: Abigail Child. Ed. Francois Bovier. (Geneva: Metis Presses, 2011).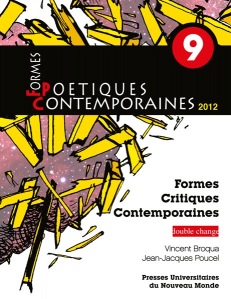 Redell Olsen, "the matter of cloven-poetics: or, even the title against itself". Formes Poetiques Contemporaines. Eds. Vincent Broqua and Jean-Jacques Poucel. (Paris: Double Change, 2012).
Redell Olsen. Writing and statement of poetics "Not, A Conceptual Art Poetics" included the anthology I'll Drown My Book: Conceptual Writing By Women. Eds. Caroline Bergvall, Laynie Browne, Teresa Carmody and Vanessa Place (Les Figues: Los Angeles, 2012). Also available from Jacket2.
Redell Olsen, "Book-Parks and Non-sites: Susan Howe's Scripted Enclosures". Jacket, Vol. 40, 2010.
Redell Olsen, "Kites and Poses: Attitudinal Interfaces in Frank O'Hara and Grace Hartigan". Frank O'Hara Now: New Essays on the New York poet. Eds. Will Montgomery and Robert Hampson, Liverpool University Press, 2010. Liverpool: Liverpool University Press, 2010.
Redell Olsen, "Practice Writing: Modernism and the Visual arts". Teaching Modernist Poetry. Eds. Peter Middleton and Nicky Marsh. Palgrave/Macmillan, 2008.
Redell Olsen, "Strategies of Critical Practice: Recent Writing on Experimental and Innovative Poetry by Women". Signs, 2008.
Redell Olsen, "'Simultaneous Equivalents': Adrian Piper, Bernadette Mayer, Hannah Weiner in 0-9." Performance Research, Summer, 2002, pp. 60-65.
Redell Olsen, "Sites And (Human) Non-Sites of A (Sub) Urban World" The Paper: Additional Apparitions: Poetry, Performance & Site Specificity. Eds. David Kennedy and Keith Tuma. Cherry on the Top Press, 2002. pp. 181-190. (on Carla Harryman and site writing).
 Editorial
How2journal 2001 → 2010
How(2) is an Internet journal that publishes contemporary and modernist poetry and poetics by women. How(2) began as an extension of Kathleen Fraser's print-based magazine, '(How)ever'.
From 2006-2010  Redell Olsen was the main editor of How(2) (web design and technical expertise by John Sparrow).
From 2003-2006 Redell Olsen was the managing editor of the journal (under the editorship of Kate Fagan).
Below are a list of links to the full issues of the journal commissioned and edited by Redell Olsen (Vol. 3:1, 3:2, 3:3):
Selected editorial sections, essays and interviews from 2001-6 by Redell Olsen: