2022
July 9th Birkbeck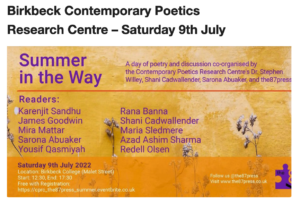 Keynote Reading at Birkbeck
2021-22
A playlist, 'Who Sails the Ocean?' curated by Redell Olsen for  Derek Tyman and Andy Webster and their conceptual art project the Vanda Chan Archive.  So the Red Rose* is at the Arkadien Festival, Kunstverein,  Ebersberg and Fred & Ferry Gallery and Radio Centraal, Antwerp.
"This playlist presents in diary-like form the listening of a lone figure adrift, one who may or may not be our protagonist: Who Sails The Ocean? The voyage drifts towards an interspecies opera of sorts where genre is permeable as the cracks in the hold. Sleepless connections proliferate in chaotic visions bent on an insect pastoral where violence and desire consume all in a toxic fountain too much like something salvaged of a future present of. Tracks made after 1985 reflect dreams us becoming all at sea with what is and is not now."
2020-1: New Project in response to considerations of biodiversity and climate change in collaboration with DARE Art Prize.
Enter the Digital Studio here
The poet, writer and visual artist Redell Olsen has been announced as the winner of the DARE Art Prize 2020-21 by the University of Leeds and Opera North, in association with the National Science and Media Museum and The Tetley, Leeds.
Redell's proposal includes the creation of a new song cycle and film, using scientific data measuring different species of insects in our skies. This will be both an artwork and a contribution to the research of the University of Leeds' BioDAR unit, by exploring alternative ways to represent climate change and the risk of species extinction.
Information about insects and other animals in the sky is a by-product of the UK's extensive weather radar network. Previously discarded by weather scientists, it is hugely valuable in the mapping of insect life. The BioDAR Team is developing ways to recognise and measure different species of insects in the skies using this data, employing 3D modelling and academic expertise from the fields of biology, ecology, physics and atmospheric science. Redell Olsen's DARE Art Project proposal will bring another, less expected discipline – the arts – to the programme.
Challenging artists and scientists to collaborate on new approaches to the creative process, the Prize is part of the innovative DARE partnership between the University and the national opera company, also based in Leeds. It offers an artist the opportunity to produce new work in partnership with leading scientific researchers at the University of Leeds, and staff and performers from Opera North. Residencies  at The Tetley, Leeds' centre for contemporary art, and collaborations and showcases with the National Science and Media Museum, Bradford, are also available.
A British poet and writer who often works with film and performance, Redell lectures at Royal Holloway, University of London, where her research and teaching specialisms include innovative poetics, conceptual writing, bookarts and sound.
"How might a poet/artist contribute to the interpretation of scientific data, or even propose the work of art as another potential recording device alongside scientific instruments?", she asks in her proposal.
During the course of the year she will be developing her project in ways that both acknowledge the constraints of our current situation and find ways around them. Alongside her own writing, she will be exploring various modes of artistic practice and audience engagement across a wide range of media and collaborative practice. She has already begun work on the commission under lockdown, meeting the BioDAR team virtually and exploring collaborations with Opera North's music staff and ensembles.
Dr Christopher Hassall, Associate Professor of Animal Biology, University of Leeds, and leader of the BioDAR project, comments:
"We are delighted to have an artist collaborating with the BioDAR project. The research project is already interdisciplinary, combining the unique and complementary contributions of atmospheric scientists, ecologists, and data scientists.
"However, a major challenge for us is how to present complex information in a way that is engaging and informative for technical and general audiences. Redell's perspective on the work will not only add a novel way for us to communicate the project outputs but will also challenge us to think about how we work together as a wider interdisciplinary team."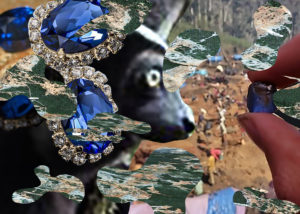 Redell Olsen 'Sapphires and Lemurs,' Detail from bookwork, 2019.
Previous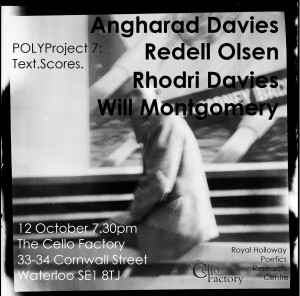 TEXT.SCORES
Angharad Davies
Redell Olsen
Rhodri Davies
Will Montgomery
12 October 2015
The Cello Factory
7:30 pm
33-34 Cornwall Street
London
Waterloo SE1 8TJ
Refracted Light Poetry Reading
Saturday 2 May 2015
Steve Fowler, Amy Cutler, Patrick Coyle (via recording), James Wilkes, Edmund Hardy, Emma Bennett, Philip Terry, Dorothy Lehane, Dell Olsen
Sunday 3 May 2015
16:00-16:45
Chris McCabe, Mendoza, Sarah Crewe, Inua Ellams, Tim Atkins, Colin Herd, Sophie Mayer, Stephen Emmerson, Tamarin Norwood
Over more than 20 years, the American poet Jackson Mac Low composed his 'Light Poems', using a chart of 288 words for light. Twenty contemporary poets have responded to this chart, creating their own works, which will be performed here for the first time and published in an anthology available on the day.
Contributors
Produced and edited by James Wilkes.
With thanks to Anne Tardos.
Poetry by Tim Atkins, Emma Bennett, Patrick Coyle, Sarah Crewe, Amy Cutler, Inua Ellams, Stephen Emmerson, SJ Fowler, Edmund Hardy, Colin Herd, Dorothy Lehane, Sophie Mayer, Chris McCabe, Mendoza, Tamarin Norwood, Redell Olsen, Holly Pester, Nat Raha, Philip Terry and James Wilkes.
(Image: Light by Stephen Emmerson. Photo courtesy of the artist.)
http://wellcomecollection.org/events/refracted-light-poetry-reading
Sunday 23rd November 2014
19.30–21.00
Vahni Capildeo, John James, Redell Olsen
Gonville and Caius College, Trinity Street: Bateman Auditorium
University of Cambridge.
All Welcome…
https://cambridgepoetrycollection.wordpress.com
New Poems…
&
Scott Polar Research Institute : Wednesday 24 September – Saturday, 20 December 2014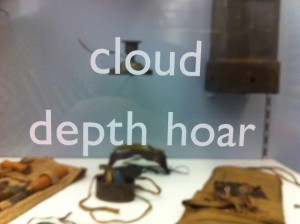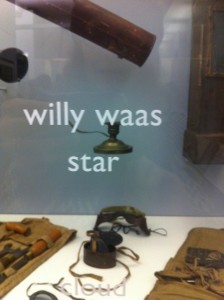 Details from: "Whiteout Film for Snowgoggles (Landscapes) " Redell Olsen, 2014.
The Polar Muse is a collaboration between The Polar Museum and eight Cambridge-based poets, with poems presented on the glass of the Museum's display cases, in front of the objects which inspired them.
http://www.polarmuseum.org.uk/exhibitions/thepolarmuse/
Latest Book….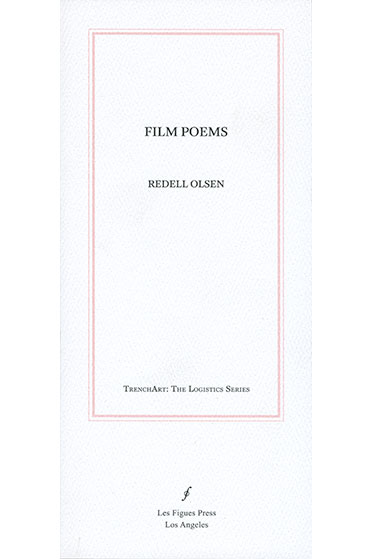 Film Poems. Los Angeles: Les Figues Press, 2014. Now Available.
Review of Punk Faun by Eric Powell in Chicago Review http://chicagoreview.org/wp-content/uploads/2014/10/58-34_Powell.pdf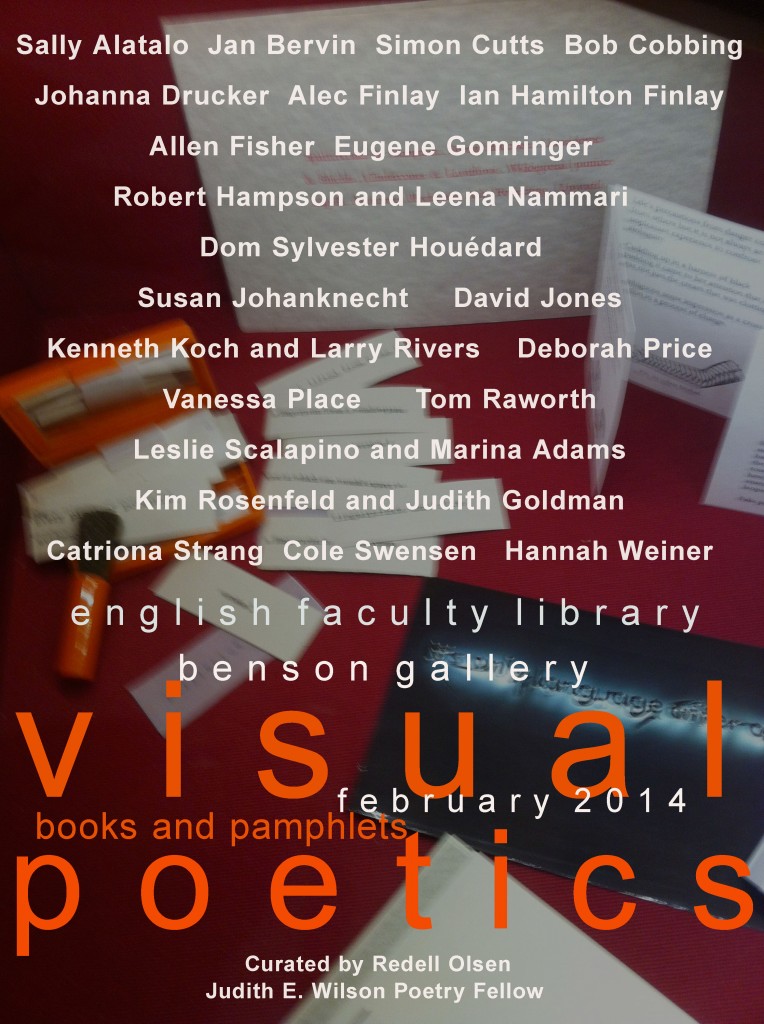 February 2014
An Exhibition of Visual Poetics: books, pamphlets, objects
English Faculty Library
Benson Gallery
University of Cambridge
English Faculty Library
9 West Road
Cambridge
CB3 9DP
curated by Redell Olsen (Judith E. Wilson Fellow in Poetry)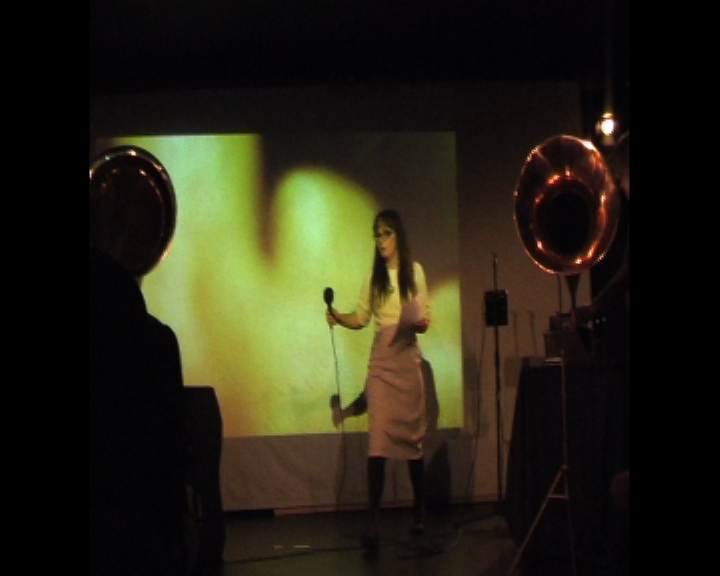 Phonographies 30.08.13
Film of the event at filmpoems .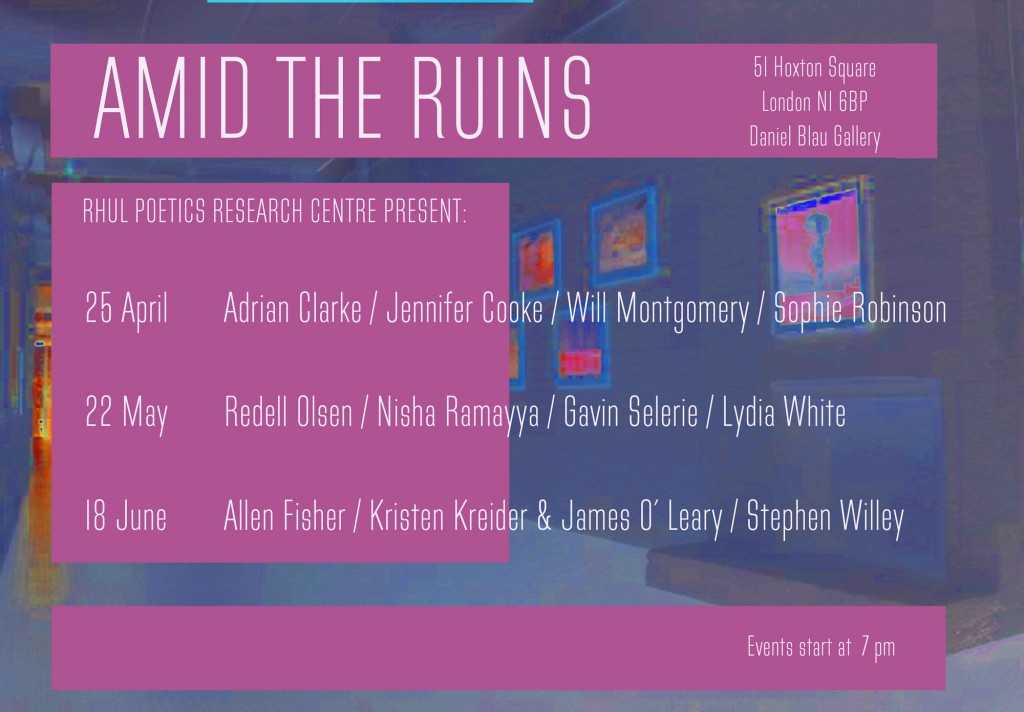 RHUL POETICS RESEARCH CENTRE PRESENTS:
Amid The Ruins…
25 April Adrian Clarke / Jennifer Cooke / Will Montgomery / Sophie Robinson
22 May Redell Olsen / Nisha Ramayya / Gavin Selerie / Lydia White
18 June Allen Fisher / Kristen Kreider & James O'Leary / Stephen Willey
51 HOXTON SQUARE / LONDON N1 6BP / DANIEL BLAU GALLERY
7 pm
ALL WELCOME
Thursday 19:00, 2 May 2013
Judith E Wilson Studio, Faculty of English
MAGGIE O'SULLIVAN / REDELL OLSEN / CAITLÍN DOHERTY / ROWAN EVANS
WINE + BOOKS + INTERVAL
//
London launch of 'Punk Faun: a bar rock pastel' (Subpress, 2012)
Parasol Unit, 14 Wharf Road, N1 7RW
Thurs 13th Dec / Drinks from 6.30pm, event begins at 7.00pm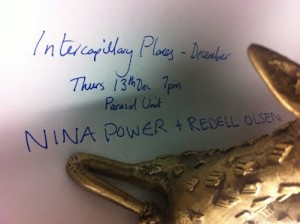 8th November, 2012. "Sprigs and Spots" (2012): a film for live performance as  part of  "SPEECH ACTS, 1″ curated by Caroline Bergvall in the Judith E. Wilson Drama Studio, Cambridge.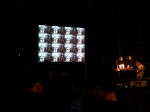 Double Change vous invite à une lecture de
Redell OLSEN
et
Charles ROBINSON
Le jeudi 27 septembre à 19h30
GALERIE JÉRÔME POGGI + OBJET DE PRODUCTION
115/117, rue La Fayette – 75010 Paris – Tél. : + 33 (0)9 51 02 51 88
M° Gare du Nord ou Poissonnière – Parking Vinci rue des Petits Hôtels
http://www.galeriepoggi.com
Lecture bilingue.
Entrée libre.
www.doublechange.org
 REDELL OLSEN a publié plusieurs livres de poésie dont *Book of the
Fur* (Rempress, 2000) et *Secure Portable Space* (Reality Street,
2004). De 2006 à 2010, elle a été rédactrice en chef de *How2*, revue
en ligne dédiée à l'écriture poétique et critique des femmes. Redell
Olsen a aussi publié des essais critiques dont les derniers portent
sur Frank O'Hara, Abigail Child et Susan Howe. Ses projets d'écriture
les plus récents sont orientés vers la performance, les films ainsi
que les collaborations qui naissent de lieux précis. Citons *Newe
Booke of Copies* (2009), *Bucolic Picnic (or Toile de Jouy
Camouflage)* (2009) and *The Lost Swimming Pool* (2010). *S P R I G S
& spots* (Cambridge: Wide Range Chapbooks, 2012) présente le poème
composé à partir du film muet *Lace* (1930), lu lors de la projection
du film en 2011. Elle collabore souvent à des projets collectifs comme
l'exposition et l'édition du livre *Here Are My Instructions* (avec
Susan Johanknecht, Gefn Press, 2004) et *The Lost Swimming Pool*(2010)
(avec Ruth Livesey, Drew Milne, Libby Worth et Gillian Wylde) qui
associait textes, films, sons et chorégraphies pour une installation
dans une piscine désaffectée. Avec Drew Milne, elle forme le groupe
les *Electric Crinolines*. Avec quelques collègues, elle fait partie
du Centre de Recherche Poétique de l'Université Royal Holloway
(Londres) et co-dirige la série de lecture POLYply. Directrice du
Master de Pratique Poétique à Royal Holloway, Redell Olsen s'intéresse
aux méthodes pédagogiques expérimentales dans l'enseignement de la
poésie et de l'écriture.
La maison d'édition Subpress vient de publier son livre *Punk Faun : a
bar rock pastel*.
Redell Olsen est l'invitée du program Poets & Critics de l'Université
Paris Est qui consacre deux journées à son travail les jeudi et
vendredi 27 et 28 septembre. Informations à
http://poetscriticsparisest.blogspot.fr/
 CHARLES ROBINSON est écrivain, auteur de trois livres : *Génie du
proxénétisme* (Seuil, 2008), *Dans les Cités* (Seuil, 2011), *Ultimo*
(è®e, 2012).
Il réalise aussi des objets numériques : *Les Questions écureuil*
(è®e-numérique, 2012).
Et des objets sonores : *Dans les Cités* – pièce radiophonique (France
culture, Atelier de création radiophonique, 2012).
http://charles-robinson.blogspot.com
On Thursday September 27 and Friday September 28 2012
A two day symposium on the work of Redell Olsen
Université Paris Est Créteil, salle 117, Maison des Langues.