Punk Faun: a bar rock pastel, subpress, 2012.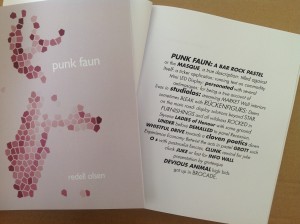 'This work was commissioned by Isabella d'Este for the walls of her studiolo after she attended a daylong screening of Matthew Barney's Cremaster at The Roxy in Brixton, London, and a few weeks later stumbled upon an artist's talk by Raphael on Ed Ruscha's painting "They Called Her Styrene." However, it was her experiences that same evening in a karaoke bar off Oxford Street that convinced her to go through with her planned idea and to approach a writer who could carry out her design for a bar rock pastel. At the time of the commission the patron was herself concerned with the plight of deer on the roads of Europe and North America and was an ardent campaigner for the introduction of sonic deer deterrents based on installations pioneered by Max Neuhaus. In a drawing, now unfortunately lost, and in this written description (for the first time available here within the text of a popular edition) she details her request for a masque of grotesque pastoral and mythic proportions, a cloven poetics that would feature commerical activity to be streamed live on the walls of her studiolo. She similarly required the inclusion of players as ordinary citizens—or often as ordinary citizens as artists—"got up in devious animal brocade," to perform whatever forms of cultural consumption, display and collection they encountered over the duration of their everyday experience, all this for her personal entertainment and meditative consolation. D'Este paid for the work upfront safe in the knowledge that she had purchased a piece of poetic invention in which even the title was against itself.'
issn: 9781930068568
Available here from SPD
Review by Nico Peck Kelsey Street Press.
'The Patron and The Snare: Punk Faun and the constraints of utterance' by David Herd.
Review of Punk Faun by Erik Powell, Chicago Review (Summer 2014, 58:03/04)
Redell Olsen, "the matter of cloven-poetics: or, even the title against itself". Formes Poetiques Contemporaines. Eds. Vincent Broqua and Jean-Jacques Poucel. (Paris: Double Change, 2012).